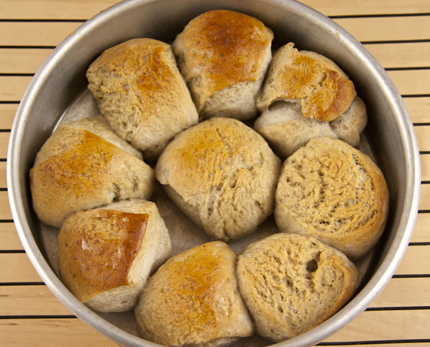 When I hear "banana bread", what comes to mind is the bake-sale staple, a quick bread that is more like a cake, really. So when I was at the library a couple of weeks ago and thumbing through a Jamie Oliver cookbook while the kids selected their easy readers, I was intrigued by a recipe for a standard white bread made with banana puree.
Not, you understand, intrigued enough to actually check out the book (we were walking home and why are cookbooks always so HEAVY?) or even photocopy the page, but I did scribble down some notes. When I first made the dough, I was somewhat alarmed by the morbid purplish-gray color; maybe this is a recipe best enjoyed in low light. But you will enjoy it, because it's wonderfully chewy, with a little extra sticky-sweet top from a brush with honey. The banana flavor asserts itself without being overpowering, and if you just happen to put a little pat of butter on one of the rolls that's still warm from the oven? Well, no one would blame you for closing your eyes and just sighing happily.
Banana bread rolls

Since I halved the original recipe, I had to tinker with the measurements a bit. Don't worry if you have a bit more or less banana puree, just add the flour gradually when you get to that stage and stop adding when the dough firms up and is just a bit sticky.

Ingredients

Makes 14 rolls

3 bananas
1½ tsp instant yeast
2 tsp salt
 3 Tbs honey
2½ cups flour
about 1 Tbs honey for the glaze

Method

Peel and puree the bananas in a blender or with an immersion mixer. You should have about 1½ cups of goo.
In a large bowl, stir together the bananas, yeast and one cup of flour. Let it sit for about 15 minutes until the yeast starts to bubble a bit (it may be hard to tell since the mixture is quite thick).
Stir in the salt and honey, then begin to add the flour half a cup at a time until the dough is pulling away from the sides of the bowl. Knead it for about 6-8 minutes on a lightly floured surface until it becomes smooth and just a bit sticky – you may need to knead in more flour as you go, depending on how large your bananas were.
Form the dough into a ball and put it in a clean, oiled bowl. Cover with plastic wrap and set it aside in a warm spot to rise for two hours or until doubled. You can also put it in the fridge overnight at this stage.
Grease a baking pan (I used a 9″ round cake pan which wasn't quite big enough).
Form the  dough into about 14 balls of equal size and place them in the pan with enough space between them to expand a bit. Cover and set aside for the second rise, about 45 minutes to 1 hour, until the rolls look a little puffy.
Meanwhile, preheat the oven to 375 degrees and in a small bowl, mix about a tablespoon of honey with a splash of hot water to thin it out.
Once they've risen, brush the rolls with the honey glaze and bake for ten minutes; brush the tops with the glaze again and continue to bake for ten more minutes. Bake a total of about 20-22 minutes or until the tops are nicely browned.