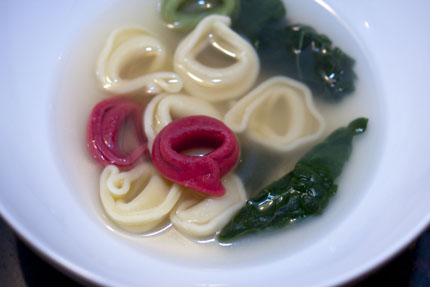 This is barely a recipe, I know. But it is a sure-fire winner in our house, and it's just enough work to make you feel like you've lovingly prepared dinner for your family, without requiring too much actual effort. This post is more about vegetable stock than anything, since I am not about to suggest you make your own tortellini. Not today, anyway. (Note to self: wouldn't it be fun to try making some tortellini?) You can get a batch of stock going on the weekend, chuck it in the freezer next to a package of frozen tortellini and you have the makings of a great, quick weeknight dinner. If you are a fancy sort of person, you could buy fresh tortellini, even.
A pot of stock simmering on the stove is the savory equivalent of baking cookies: it's the fragrance of home. Well, as long as you don't put cabbage in it. In Central Europe I used to buy cellophane packages of "soup mix" vegetables, usually a couple of carrots, a parsnip, celery root, half an onion and inexplicably, some cabbage. I don't put cabbage, or any brassicas, in my stock unless I want cabbage soup, because that's what it will be. The thing with vegetable stock is first of all, don't boil it too hard. A nice simmer is what you're going for. The slow cooker is perfect for this task, although I like to make a bigger batch than fits in our cooker. The second thing is salt. I once accidentally dumped in about twice as much salt as I intended to put in, and it was delicious, best I'd ever made! It doesn't just make the stock salty, it makes all the flavors pop. That said, the tortellini in this soup can be pretty salty in their own right, so taste, taste, taste as you go along to get the balance right.
Tortellini in broth


To give your stock richer color, leave a couple of layers of the papery brown skin on the onions. (Clean off any dirt, though!) A nice variation is to add a can of chopped tomatoes and their juice to the stock about 20 minutes before you add the tortellini. And of course you are not limited to tortellini – you could use small ravioli, tortelloni, whatever! You will par-cook them separately to keep the stock from getting cloudy (and the pasta from absorbing all the soup).

Ingredients

Serves 6

 3 medium carrots
two medium parsnips or parsley root
one small celery root, or 4 stalks celery
4 cloves garlic
1 medium yellow onion
five peppercorns
1 tsp olive oil
salt to taste
1 bunch chard or Tuscan/lacinato/dinosaur kale
1 pound (0.5 kg) frozen or dried tortellini

Method

Scrub all the vegetables, or peel them if you feel ambitious.
Chop the carrot, parsnip and celery (root) into large cubes of even-ish size; you won't serve these in the broth, so appearance isn't important.
Quarter the onion and peel the garlic cloves.
Heat the oil in the bottom of a large stock pot over medium heat. Dump in all the chopped veggies, onion, garlic and peppercorns, and saute for 5 minutes. If you're using a slow cooker you can skip this step.
Pour 7 cups water over the vegetables. Bring to a gentle boil, them cover simmer for 40 minutes up to 2 hours.
Meanwhile, cut the leafy parts off the chard or kale. If you're using chard, chop the stems as well, but I usually discard the kale stems.
Time to check the stock! Taste, then add salt, starting with 2 teaspoons. If you think it needs a little more flavor, simmer without the lid for 15-20 minutes to reduce it down a bit.
Bring a pot of salted water to a boil. Cook the tortellini for 2 minutes less than the suggested cooking time on the package.
While the pasta cooks, strain the broth; you can serve the veggies as a kind of side dish, as Valerian's family does, or reserve them for another use. Return the stock to the pot, and add the chard or kale and bring to a low simmer.
When the pasta is ready, drain it and add it to the stock and let everything simmer together for a few minutes.
Check for seasoning and serve.