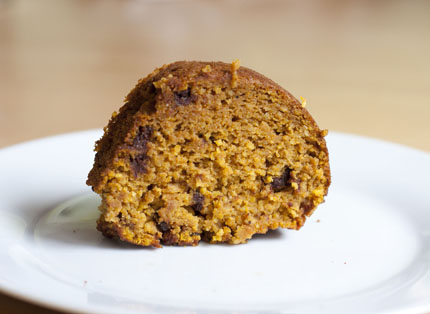 This isn't my first waltz with gluten-free baking, but almost. I made some gluten-free cupcakes for a birthday party this summer, and let's just say that even before I burned them they weren't exactly winners. It's a pretty different ball game, this gluten-free stuff. (What, how long do you expect me to sustain a single metaphor?)
We have friends who can't have gluten, which has given me a bit of a push towards trying some of the rapidly-multiplying gluten-free recipes out there. And really, we have dinners that don't include gluten fairly often without even trying. But baking, not so much. There are so many interesting flours available right now, though, that it's fun to incorporate them even where health concerns aren't an issue. They have interesting flavors and textures of their own that may not be exactly like the usual wheat flour-based ones, but are delicious in their own right.
I realize that if you are a Central European reader, you may not have access to as many of these ingredients, at least not easily. But even before we moved, I was amazed to see that bigger "bio" stores were stocking a much wider range of grains, flours and other staples than I'd seen before, not to mention the number of packaged gluten-free products. So take a look around, you may strike it rich – it's a good time to be gluten free!
This particular recipe is adapted from an applesauce cake on the Healthy Seasonal Recipes blog. My ears pricked up at the words "snack cake", because, as I've mentioned before, I'm a huge fan of all kinds of muffins, quick breads and their ilk. This one didn't disappoint – it's not too sweet, moist, and has an almost puddingy texture. What with autumn arriving, I thought the apple original might lend itself to a pumpkin version, so I set about tweaking the recipe for an October weekend, swapping pumpkin for apple, using maple syrup rather than honey, adding some cornmeal, and to reassure the kids that it really is cake, some mini chocolate chips. The result: excellent. Just what's called for on an afternoon where the wind is picking up, the clouds are moving in, and you're ready for a cozy and easy baking project. To return to my original metaphor, you'll want to add it to your dance card.
Gluten-free pumpkin chocolate chip cake
Adapted from Healthy Seasonal Recipes

The chocolate chips here are optional, but awfully nice. Mini ones work best, since the cake has a fine crumb that might not hold together so well with larger chunks of chocolate. Make sure you use a more fine-ground cornmeal, polenta for example is too gritty in this context.

Ingredients

Makes about 8-10 generous slices of cake

2 cups cooked pumpkin, canned or fresh
2 eggs
¼ cup vegetable oil
½ cup maple syrup
½ cup brown sugar
1½ cups brown rice flour
½ cup fine-ground cornmeal
1½ tsp baking soda
¾ tsp pumpkin pie spice
¾ tsp salt
generous ½ cup mini chocolate chips

Method

Preheat the oven to 350 F/180 C and grease a Bundt pan.
In a blender or tall measuring cup, combine pumpkin, eggs, oil, maple syrup, and brown sugar. Use an immersion blender or, you know, a blender to thoroughly combine.
In a large bowl, whisk together rice flour, cornmeal, baking soda, pumpkin pie spice and salt.
Stir the wet ingredients into the dry ingredients and mix until combined; stir in chocolate chips.
Scrape into the prepared pan and smooth the top. Bake for 50 minutes or until top springs back when lightly touched.
Cool in the pan for five minutes before turning cake out onto a rack to cool. Allow it to cool completely (or as long as you can wait) before slicing.