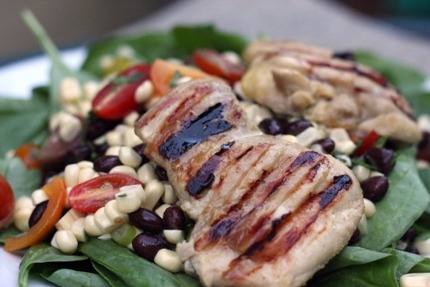 So, I have become kind of obsessed with this corn "relish" recipe from the most recent Everyday Food. It's about as simple as it gets, there's no cooking involved. None! As we were chowing down tonight, Valerian asked "why do we even cook corn?" because it is so so tasty hacked right off the cob. And I'm not talking about any pampered organic superstar corn from the farmers market; I think it's way too early for that anyway, especially since California apparently took a holiday in Oregon this spring and we've had weeks of unseasonal rain. No, this corn came from the grocery store, 33 cents an ear, and delicious as all get-out.
Although I've managed to make a meal of the relish several times (leaving guests whimpering as I greedily cleaned out the serving bowl), I wanted to bulk it up a little to make a more substantial dinner. I tossed in some black beans and for the omnivores among us, topped it off with some chicken cooked on the panini press my mother handed off to us when we moved. For myself, a little feta added some salty goodness but that's optional, I'd say.
This was such a satisfying meal and so simple, it's a good one to throw together for these weeknights when the sun stays up so long it's easy to forget how late it is. Gluten free, too! It's a delicious taste of the summer to come, just look at these gorgeous tomatoes:
Fresh corn salad with grilled chicken
Adapted from Everyday Food

To keep the salad snappy and fresh, dress it last; I'd recommend cooking the chicken first, then assembling the salad; the chicken could easily be made in advance and kept in the fridge until you're ready to serve it.

Ingredients

for the chicken

1 lb. boneless chicken breasts or thighs
½ cup buttermilk
1 tsp ground cumin

3 ears fresh corn
8 ounces cherry tomatoes, halved
2 scallions, sliced thin
1 (15 ounce) can black beans, about 1½ cups, drained
juice of one lime
12 ounces baby spinach
feta for serving (optional)

About an hour and a half before you want to eat, trim any excess fat from the chicken, season it with salt and pepper and place it in a sealable container or bag. Stir together the buttermilk and cumin in a cup, then pour the mixture over the chicken. Cover/seal and refrigerate for an hour.
To cook the chicken, preheat a panini press or grill to medium heat. Place the chicken parts on the grill (discard any remaining marinade) and cook for about 10 minutes, until there are nice grill marks on the pieces and the juices run clear.
While the chicken is cooking, cut the kernels off the ears of corn.
Toss the corn, tomatoes, scallions and beans in a large bowl. Season with salt and pepper. Squeeze the lime juice over and toss again.
Serve on a bed of baby spinach, with the chicken or feta on top.

Serves three to four as a light meal.