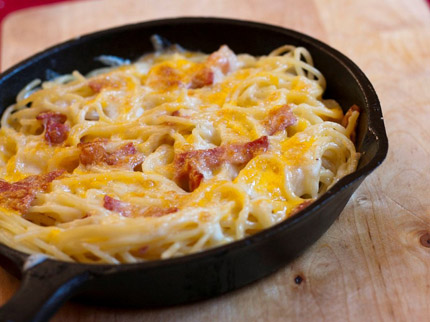 Some of you have been concerned that recent recipes have been too healthy and light. Well, fret no more, friends. This one suffers from no such delusions: it's rich and oh my, it's good.
Both kids are back in school as of this week, and we're still working out the schedule in its various daily permutations. (Is there some school rule that says that no day can be like another?) One thing that has made things dramatically easier is getting lunches together the night before, especially by cooking a little extra at dinner to tuck into the lunchbox for the next day.
This recipe is so good, though, we were lucky to have any leftovers at all – you'll catch yourself swiping bites that were meant to get packed away. And while it's true that this dish, which is essentially macaroni and cheese with a kick, isn't going to get on anyone's low-calorie list, it will surprise you how rich and creamy it tastes with a pretty small application of cheese.  Bet your kids will gobble it up, and you will too!
Daddy's special mac & cheese

You can serve this pasta dish two ways – just noodles and sauce, à la Kraft, or give it an extra sprinkle of cheese and slip it under the broiler to get a crunchy top. Equally good, just take your pick!

Ingredients

Makes enough for two kids' dinners with enough for their lunches the next day

5 oz (140 g) pasta, any shape
2 strips bacon or turkey bacon
2 oz (55 g) firm cheese such as cheddar, grated, plus more for topping

Method

Bring a large pot of salted water to a boil. Cook the pasta according to package directions (time depends on the shape of your pasta).
Meanwhile, fry the bacon in a large skillet until crisp; if you use especially fatty bacon, you may want to pour off some of the grease.
When the pasta has finished cooking, drain it, reserving one cup of the cooking water. Dump the pasta into the pan with the bacon; add the cheese and toss to coat.
Add the pasta water, a little at a time, until you get the saucy consistency that looks right to you. We used the whole cup.
You can serve it as is, or, if you prefer a crispy crust, slide the pasta into an ovenproof dish, top with more cheese and broil until the top is toasted and bubbly. Yum!