So, a few months ago it was pancakes. Apparently now it's eggplant sauce/spreads. But this recipe is actually one of my go-to dinners, even when eggplant and tomatoes aren't busting out all over the farmers' markets. When something is good, it's good! And I'm one of those people who find it comforting to return to the same meal, rather than boring. When I was in graduate school in NYC, living on my own and not really much of a cook, I ate one of two things for dinner about 5 days a week: either broccoli and rice, or tomato soup with couscous. Seriously. It may not come as a surprise that my dad has eaten the same breakfast for 45 years or so. How about you? Do you go back to certain recipes again and again, or are you a change-it-up chef? With young kids, you may not have much choice, although my children will declare a particular food their favorite, eat it non-stop, then just as abruptly decide they don't want it any more, ever.  Shades of Bread and Jam for Frances.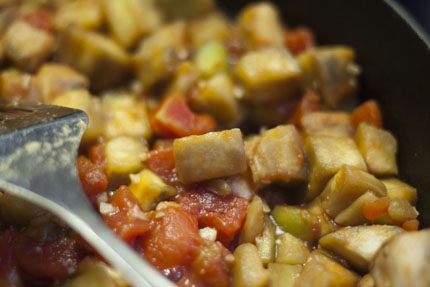 I first found this recipe in a Jamie Oliver magazine. You probably know him from "Jamie Oliver's Food Revolution" series, but he's got a Martha Stewart-like empire in the UK. He still seems pretty down-to-earth and he has a bunch of kids with silly names, so he should appreciate the pitfalls of child-friendly cuisine. Even my eggplant-phobic Mr. B (6) eats this sauce happily, albeit without knowing what's in it. Less said, better fed!
I've made this sauce many times, and about half the time I realize I only have a sliver of Parmesan left, or no fresh basil or something. I wonder, is it the hallmark of a good recipe that if you leave out one of the (few) ingredients it's still good, or is that a bad sign? Well, either way this one is a keeper in our house, and I bet you'll be going back to it over and over too.
Eggplant tomato pasta sauce
Adapted from Jamie Oliver Magazine

This recipe makes a lot of sauce, enough to coat one package of pasta and fill all four of us up and still leave enough for another pound of pasta somewhere down the line. Any pasta shape will do; the original recipe calls for linguine but I like tubular pastas just as much with it. Don't forget to reserve some of the pasta water to thin out the sauce – any saucy leftovers also make a great spread with crackers.

Ingredients

Makes enough sauce for about 2 pounds (1 kg!) of pasta.

1 medium eggplant
2 Tbs olive oil
4 cloves garlic, finely chopped
1 small (14 oz) can whole peeled tomatoes
2 tsp balsamic vinegar
a handful of basil leaves, sliced into ribbons
½ cup grated Parmesan cheese, plus more for serving (about 3 oz)
salt and pepper to taste

Method

Peel the eggplant and if it's very seedy, take out the fluffy seedy parts as best you can. Cut into half-inch cubes.
In a large skillet, warm the olive oil over medium heat and add eggplant. Cook until it's starting to get some nice brown color, then add the garlic.
Put the pasta water on to boil at this point.
Add the can of tomatoes and the basil to the eggplant; swish a little water around the tomato can and splash it in as well. Then add the balsamic vinegar and let everything simmer for 5 minutes or so.
In a food processor or with an immersion blender, puree the sauce until it's just short of smooth. Stir in the grated Parmesan. Season to taste with salt and pepper.
To serve, reserve some of the cooking water from the pasta to thin out the sauce to your preferred consistency, and grate some more cheese over the top to make it extra fancy.