Right around the time I stopped eating meat as a teenager, I spent a summer working at a local wildlife care clinic. If squeamishness about meat had played any role in my decision to become vegetarian, that would have been the shortest internship ever. Without going into detail, let's just say that the recipes for a raccoon's lunch or a hawk's afternoon snack have no place on a food blog. At least not this one.
I stopped eating meat mainly because I was 14 and it seemed like a cool thing to do, but then found I didn't miss it and haven't really missed it  in the [redacted] years since. While I believe that it makes sense to reduce the number of animal products we use, I have never had much of a rationale for vegetarianism, and never felt much inclined towards being vegan. I'm way too lazy to monitor my diet that closely – living with three committed omnivores, I am okay with picking the sausage out of my favorite lentil soup. I'll cook meat for everyone else, although they have to make their peace with the fact that I won't taste it to check how it is. What about your family? Do you have a pescatarian in your midst? Or lurking lactose intolerance? How do you handle multiple dietary needs around the table?
So back to the subject of this post. Despite being happily ovo-lacto myself, my most beloved cake recipe is, by chance, vegan. It's a Bundt cake and pretty much my stock answer to "what should your birthday cake be?" Although it's extremely easy to make, it falls into the category of a special occasion cake so it's not a one I make or eat too often, and that's not right. When I started seeing cookies baked from cake mix around the internet, a little light  went off over my head. Could this be a way to get a dose of chocolate spice deliciousness whether it's a birthday or not?
Indeed. Baked for ten minutes, these cookies are delightful puffy, pillowy little cakelets, gooey with chocolate chips and perked up with cinnamon and cloves. But try underbaking them by a minute or two, and you will get what I consider the ideal consistency, which is amazing, almost pudding-y. And  what with them being vegan and all, no worries about raw eggs – go ahead and eat a spoonful or two of the dough, you have my permission.
The canonical version of the cake does not include raisins, although they are in the recipe as written on an index card in my mother's file. These are to be soaked in brandy or other liquid, and while I scornfully cast out the raisins, I do include that liquid; coffee (what else?) in our household. Feel free to booze it up if you have some handy.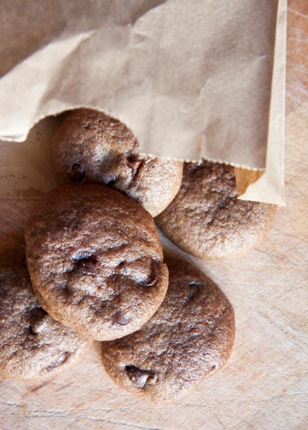 Chocolate spice cookies

Since the original cake is by nature a bit heavy, I used some whole wheat flour in the cookies to give them some heft. You could use all all-purpose, but add the coffee/liquid gradually to see that the mixture doesn't get too thin. It will thicken some if you refrigerate it for a few hours or overnight.
Ingredients
Makes about 3 dozen smallish cookies
1 cup whole-wheat flour
1 cup all-purpose flour
1 teaspoon salt
1 teaspoon cinnamon
1 teaspoon ground cloves
1 teaspoon freshly ground nutmeg
3 Tablespoons cocoa powder
1 teaspoon baking soda
1 tablespoon cornstarch
½ cup brown sugar
½ cup granulated sugar
¾ cup applesauce
⅓ cup canola oil
¼ cup brewed coffee, cooled (or brandy, or other liquid of your choice)
1 cup chocolate chips
Method
Preheat the oven to 350° F and line a baking pan with parchment paper.
In a large bowl, whisk together the flours, spices, baking soda, salt and cornstarch. Add the sugars. Stir in the applesauce and oil, then add the coffee and mix until fully combined. The dough will be soft.
Scoop the dough out in rounded teaspoons on the baking sheet.
Bake for about 8-10 minutes or until just puffed – leave them to set for 5 minutes on the baking sheet before moving them to a plate to be gobbled immediately cool.