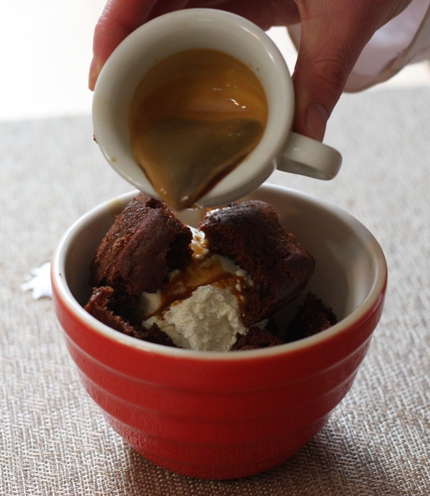 Have we mentioned that Valerian is a coffee freak geek? That we have about five different coffee-making apparatuses in our kitchen, not to mention a microwave-size roaster in the garage? If you follow EC on Facebook, you've surely figured it out from Valerian's profile pictures; coffee looms large around here.
Aside from, you know, drinking it, we work coffee into a lot of our cooking (check the sloppy joe recipe, for example). A trick I learned on the internet to give chocolate cakes a more intense flavor is to "bloom" cocoa powder in warm liquid before adding it to the other ingredients, and coffee is an ideal medium. It gives the chocolate an extra boost and complements it with its own rich notes. If you're not a fan of the taste of coffee—and I know you people exist, I'm even friends with some of you—you can dilute the coffee with warm water and still get the same effect without any noticeable coffee flavor.
This dessert borrows from two delicious traditions. There's the Hungarian Somlói galuska, something like a trifle that kind of knocks you out with its combination of cake, rum, chocolate sauce, custard sauce and whipped cream. The simpler Italian affogato is usually just ice cream with hot espresso poured over. This spring was so chilly and grim, ice cream season seemed distant for far too long; the combination of hot coffee, cold ice cream and crumbled cake just works. Whether it's cold or hot outside, you can cozy up to this baby any time.
Chocolate-Coffee Cupcake Parfait

Here's a recipe for a scaled-down chocolate cake, six cupcakes' worth to crumble over ice cream and douse with espresso. The coffee flavor is pretty assertive in this one, which is as much a quickbread recipe as it is cupcake. I like the cake a little dense, the better to hold its own against the melting ice cream and coffee. If for some obscure reason you have cake left over from something else, just use that – it will be fabulous, I promise.

Ingredients

Serves 6

1 cup flour
½ tsp baking soda
½ salt
½ cup sugar
¼ cup freshly-brewed coffee
¼ cup cocoa powder
2 Tbs vegetable oil
½ cup buttermilk
1 egg
1 pint good-quality vanilla (or your preferred flavor) ice cream
3 cups freshly-brewed coffee or 6 shots espresso

Method

To make the cupcakes, preheat the over to 350° F/190 C. Grease 6 cupcake cups.
In cup, whisk together the ¼-cup coffee and cocoa powder. Set aside to cool.
Meanwhile, stir together the flour, baking soda, salt and sugar in a medium bowl. In a small bowl, whisk together the buttermilk, oil, and the egg.
Pour the buttermilk mixture into the dry ingredients, and add the cocoa/coffee mixture. Blend with a few swift strokes until combined; do not overmix.
Fill muffin cups about ¾ of the way full; bake for 22-25 minutes or until a toothpick inserted into the center of a cupcake comes out clean. Cool for 5 minutes in the pan, then remove cupcakes to a rack to cool completely.
To serve, tear each cupcake into chunks. Layer the cake with scoops of ice cream in individual bowls, and give each lucky diner half a cup of coffee or an espresso shot to pour over the top of parfait once served.